A BigMarker Channel has many features. To find them you'll need to login to your BigMarker account and choose your personal Channel or any other Channel that you are an organizer or subscribers of.
New as of 12/15/2022: View all your channel's sub-channels in one central location
Admins have different privileges than organizers. However each community has the following:
Bulletin to post announcements and send private messages
Shared Calendar listing upcoming web conferences and other events
Conferences page to register for upcoming webinars and watch recordings
Subscribers section to see other channel organizers and members
About page that offers an overview the channel's mission and leaders
Settings section for organizers to customize, edit or update the channel privileges, privacy, and subscription plan. The guts of the channel.
Email and Share options to invite others to your webinar group
Much more
To learn more about what each channel has to offer, please register for or watch one of our prerecorded tours.
Or just login to your account and start exploring!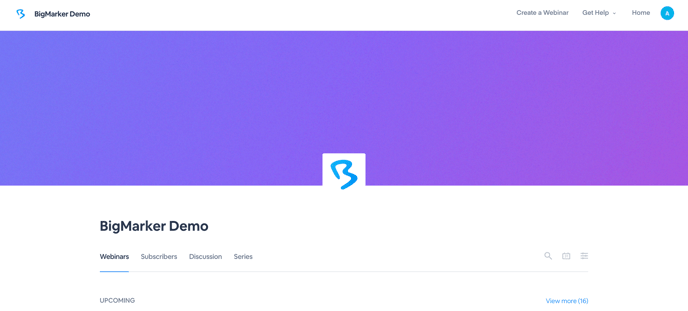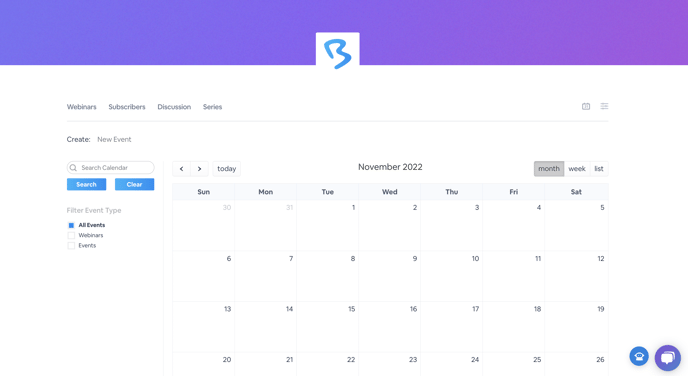 Can I change or edit my Channel settings?
To change or edit a channel's privacy, description and other details, you must be an Admin. Choose the channel (located on the left side of your personal page) you want to edit or upgrade. Once on the channel page on the right side there is a drop down box of options, select Settings. On the Settings page, there are a variety of options to customize your Channel.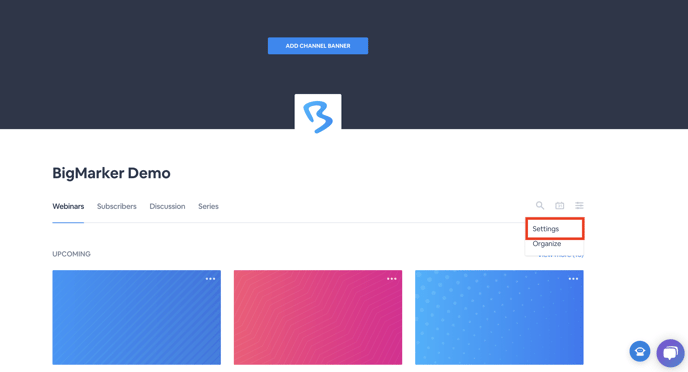 Settings page:
Channel Profile: The Channel Profile contains the global settings for your channel. Any setting changed here will reflect on newly created webinars and on. Settings on this tab include: Channel Name, URL, Contact Information, Server Settings and more.

For our Enterprise and VE clients, you are able to download a channel webinar report and registration list. These lists include the webinar names and analytics, and registration information.

Sub-Channels: The Sub-channels tab will show all of your main channel's sub-channels. This essentially gives you a complete view of all channels under your entire plan in a central location, where you can easily manage and view the amount of webinars in each sub-channel.
Privacy & Visibility: The Privacy & Visibility tab deals with customizing the privacy and visibility surrounding your Subscribers. Here, you can customize your channel's visibility and subscriber policy. Settings on this tab include: Channel Privacy, Subscriber Privacy, Subscriptions Methods and more
All Registrants: The All Registrants tab shows a list of every registrant that has registered to your channel. Here, you can view the names, email addresses and analytics of registrants by easily searching or scrolling.
Subscribers: The Subscribers tab is all about who has access to the backend of your Channel, and the specific roles and functions they are able to access. This tab includes: Managing Subscribers and their roles, and granting access to create, manage and more on the backend.
Past Guest Presenters: The Past Guest Presenters tab shows all previous Guest Presenters. Here, you can search and delete them from your channel.
Applications: The Applications tab will display any and all applicants who are looking to subscribe to your channel. Here, you can view the applications, customize what questions are needed on the application and download a list of all applications.
Fees: The Fees tab is where you can enable and edit any fees that are required for Subscribers to pay for your channel. Here, you can enable, set and manage the frequency of payment for the subscription.
Billing: The Billing tab is where the channel's plan, host licenses and billing history/payment is housed. Here, you can see the plan your Channel is on, when the next payment is due and a list of previous bills
Treasury: The Treasury tab houses all the payments for your channel if a payment to your channel is enabled. You can see your channel's current balance, a billing history and be able to integrate Stripe or Authorize.net to use for payment processing.
Bundles: The Bundles tab gives you the ability to bundle events/webinars together and offer discounted prices for those bundles. You can manage, edit and delete current and past bundles.
Languages: The Languages tab is where you can set a certain language for your channel, as well as change the verbiage of sections as desired. Here, you can select the language you would like for your overall channel, then switch phrases to different ones.
Templates: The Templates tab is where you can manage any Webinar Templates created as well as create new ones. Here, you can edit, delete and select webinar templates as default when creating new webinars on your channel.
Okta SSO Settings: The Okta SSO Settings tab is where you can integrate your Okta authentication with BigMarker. Here, you can add in the URL, attributions and metadata needed to integrate.
Azure AD SSO Settings: The Azure AD SSO Settings tab is where you can integrate your Azure AD authentication with BigMarker. Here, you can add in the URL, attributions and metadata needed to integrate.
Auth0 Settings: The Auth0 Settings tab is where you can integrate your Auth0 authentication with BigMarker. Here, you can add in the URLs, SAML and metadata needed to integrate.
Analytics: The Analytics tab shows the summary for the analytics of your channel. Here, you can see analytics for registrants, attendees, webinars, traffic sources, referral sources, webinar tags and more.
Data Mapping: The Data Mapping tab is where you can create Data Mapping for custom registration fields and poll responses, streamlining the data inputs to a consistent data output.