Get a comprehensive overview of all your Virtual Event's registrants' information, such as their registration status, vaccination status, whether they've checked- in and more
Note: This feature is only available for Event Packages plan holders. If interested, please contact our Event Experts at sales@bigmarker.com

We've introduced a more comprehensive registration management section to the Virtual Event dashboard. On one page, you can see who registered for your virtual, in-person and hybrid events, their registration date and vaccination status, as well as whether they've checked in yet. You can also print each attendee's badge directly from this page, thus streamlining the check-in process.
Learn how to use the registrant tab below.
How to Reach the Registrant Tab
1. Log in to your Main Series dashboard, and click Manage Event.

2. From there, you will proceed to the Event Modules dashboard. On the left-hand tab of this page, select Registrants.
From there, you will reach the main registrant dashboard. All registrants will appear in a list form, where you can see their name, email address, whether they have checked in yet or not, their vaccination status (if applicable), what type of event they are attending and their title (if applicable).
You can filter by tab (All Registrants, Checked-in, Not Checked-in), or by event, pass or session type.
How can I access individual registrants' profiles or print their access badges?
From this page, you can access individual registrants' profiles, print out their badges for check-in and manage their accounts. Select Print to print the attendee's badge and select Manage to view their registrant profile.
Below is an example of a registrant profile. This includes the participant's Pass Types, Preferences & Interests (as indicated via custom registration fields), Sessions and Activity.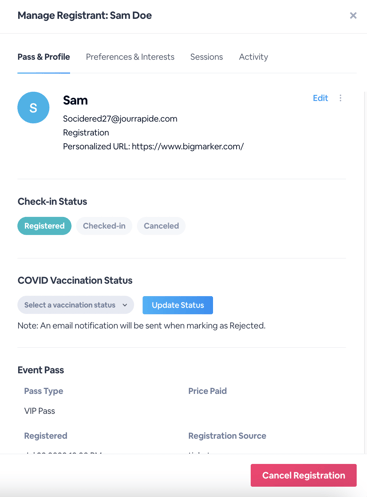 At the bottom, cancel a registrant's registration to your event. Click Cancel Registration to cancel their registration from your entire event. This will cancel their registration for any events they have already enrolled in.
Note: If you are canceling their registration from the main series backend, under the Manage Series Registrations section, it will not cancel their registration across all your event's sessions.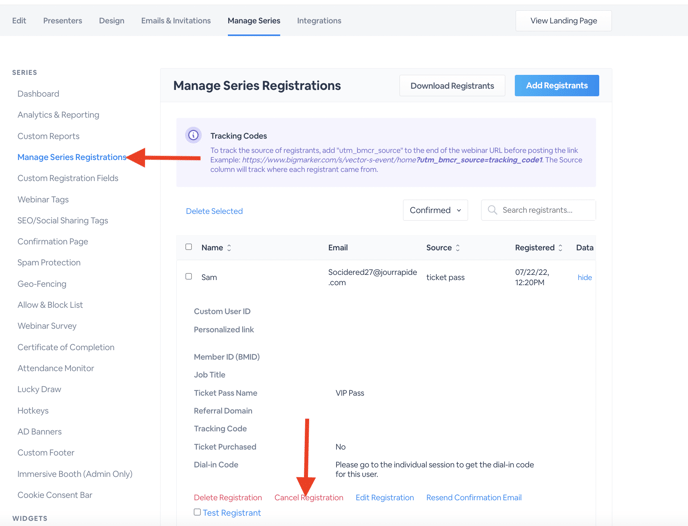 How can I export my registrant list?
You can also download the list of registrants as an XLS file, or add registrants in this section (learn how to add registrants here). Select Download List to download your registration list or select Add Registrants to add registrants.
Watch the video below to learn more about the Registrant settings:
If needed, click the Print button to access the attendees QR code for Check-in, where you can print it out for them.
Can I Require Approval for my Registrants?
Yes! For registrants who purchase ticket passes for your event, you can customize the ticket pass to be approved or denied before allowing the registrant to continue exploring your virtual event. This will allow you to manage your registrants and ensure those who have completed purchase, or only certain passes, are able to enter your event in your own time.
After you've created your pass, and set it so it requires approval, you will be able to view the approval status for the registrant in the Registrant section under the Approval Status column.
While your registrants are waiting for their ticket approval, they will be redirected to a confirmation page, or other location of your choice. Registrants who choose a ticket pass that requires approval will not automatically receive a confirmation email, and they won't have immediate access to the event. Instead, you will receive an email notifying you of a new ticket purchase that needs to be accepted. This email can be sent to multiple email addresses, which is set up during the creation of your approval process.
Click Review Purchase Details to be redirected to the Registrant section on your event's backend. From there, you can click Manage and approve or decline the registration. Watch the video below to see this in live action:
Once a registration is approved, the registrant will be sent the registration confirmation email, and have regular attendee access to the event. If a registrant is denied approval, there is no automatic communication that is sent out, and their registration is canceled.
You can also approve registrants based on vaccination status for Hybrid or In-Person events. To learn more, click here.