BigMarker users can now download text transcripts for their on-demand webinars.
Note: This feature is available for Enterprise plan holders. If interested, please contact our Events Experts at sales@bigmarker.com
At this time, transcripts are available only for sessions that are conducted in English.
1. Once your on-demand webinar has finished processing and the recording is available, log into your on-demand webinar. Select the Manage Webinar tab.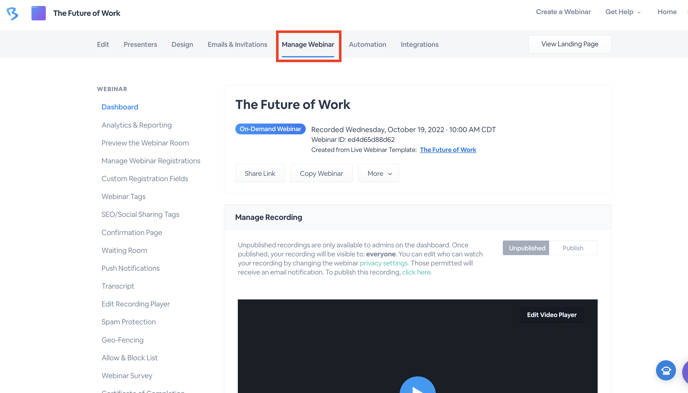 2. Staying in this tab, scroll down and find Manage Recording, where you can download and edit your session's recording.
Once here, select Download Captions, located just below the video playback shown below. Text captions will download as a zip file.

3. The output zip file contains 10 .vtt files, each a text transcript of the session in various languages (including English, German, French, Spanish, Italian, Japanese and Korean). Open the .vtt file that corresponds to your language of choice to access your session transcripts.